DC Products
Backward Inclined Motorized Impeller Series
BMAX-DC Backward Inclined Motorized Impellers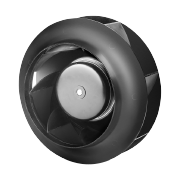 Quiet and compact air moving solution.
Brushless DC Motors are available in both 24 VDC and 48 VDC versions.
Ball bearing construction allows multiple mounting options.
Low profiles that do not require a housing.
Air is discharged 360° radially from the impeller wheel.
Operate very efficiently at high pressures.
The revolutionary, aerodynamically designed impeller features "LABI-SEAL" technology that provides the highest efficiency and lowest noise rating of any competitive offering in this class.
The BMax-DC design features lower weight and reduced vibration.
BMax-DC range can cover a wide variety of applications.
Sealed Ball Bearings.
20" (500 mm) Standard Lead Length.
Clockwise Rotation Viewing Inlet.
ISO 900 manufacturer.
UL and cUL listed for Electrical Safety

All models have been independently tested for safety by Underwriters Laboratories, Inc.
All models are fitted with an internal Thermal Overload Protection Device.
Inlet Rings
Capacitors for Single-Phase Motors
Protection Grilles