Wall Axial Fans
COMPACT Axial Fan Series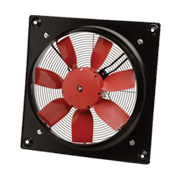 Product Models
HCGB / 4-12 / G-A (1260 CFM)
HCGB / 4-16 / G-A (2430 CFM)
HCGB / 4-18 / G-A (3690 CFM)
HCGB / 4-20 / G-A (4520 CFM)
S&P's COMPACT Wall Axial Fans have an extremely compact design created by the combination of an internal rotor motor mated with a direct drive wrap around impeller hub. This low profile design optimizes airflow performance while minimizing noise generation. The wall mounted versions require an absolute minimum depth for any given wall, ceiling or panel mounted installation.
S&P's COMPACT Wall Axial Fan was designed to be installed directly into sidewalls, ceilings and panels while exhausting or supplying air to the surrounding environments. All wall axial units include a one piece bell mouth inlet and mounting plate manufactured from high grade galvanized steel. The motor and fan impeller assembly are firmly supported within this mounting plate by a strong steel support frame that includes an integrated finger guard on the inlet side. All units are supplied with motors prewired to a wiring junction box located on the back of the motor hub for easy wiring access. This terminal box protects all wiring connections against the ingress of dust and moisture. The entire assembly is protected by a two stage primer and a tough corrosion and UV resistant polyester paint finish.
S&P's COMPACT Wall Axial Fans are designed for use in a wide range of residential, commercial and industrial ventilation applications. These units are designed to be installed directly into sidewalls, ceilings or panels. Typical applications include:
Residential – Garage, Loft, Workshop, Basement and Crawl Space Ventilation...
Commercial – Offices; Bars, Cafés, Cafeteria and Restaurant Ventilation; Make-Up Air...
Industrial – General Ventilation of Factory Spaces, Warehouse Ventilation, Equipment and Machinery Cooling, Air Transfer Applications...
Agricultural and Greenhouse – Poultry Shed Ventilation, Greenhouse Ventilation and all other applications where the exhaust of moisture laden air is required.
OEM – In addition to many traditional HVAC ventilation applications the COMPACT Axial Fan series can also be incorporated into the design of OEM machinery and equipment to provide ventilation or cooling in applications such as Air Conditioning Condensers, Roof Extract Fans, Portable Cooling Applications and many other applications.
Special versions of the COMPACT Axial Fans are available depending upon the application. Contact your local sales representative for more information about these versions.
1 – HC: COMPACT Wall Axial Fan Reference
2 – G: Plastic Adjustable Impeller - STANDARD
– B: Aluminum Adjustable Impeller - ENQUIRE
3 – B: Single Phase Motor (120V / 60 Hz)
– T: Three Phase Motor (220/460V / 60Hz) - ENQUIRE
4 – 4: Speed; Number of Poles
5 – 16: Nominal Blade Diameter in Inches
6 – G: Blade Angle (G for 60Hz)
7 – A: Air Direction
Form A = Air Over Motor-Impeller
Form B = Air Over Impeller-Motor
UL and cUL listed for Electrical Safety
All models have been independently tested for safety by Underwriters Laboratories, Inc.
All models are fitted with an internal Thermal Overload Protection Device.